Morioka Funekko-nagashi Official Web Site
Leaflet for 2017 Morioka Funekko-nagashi 2017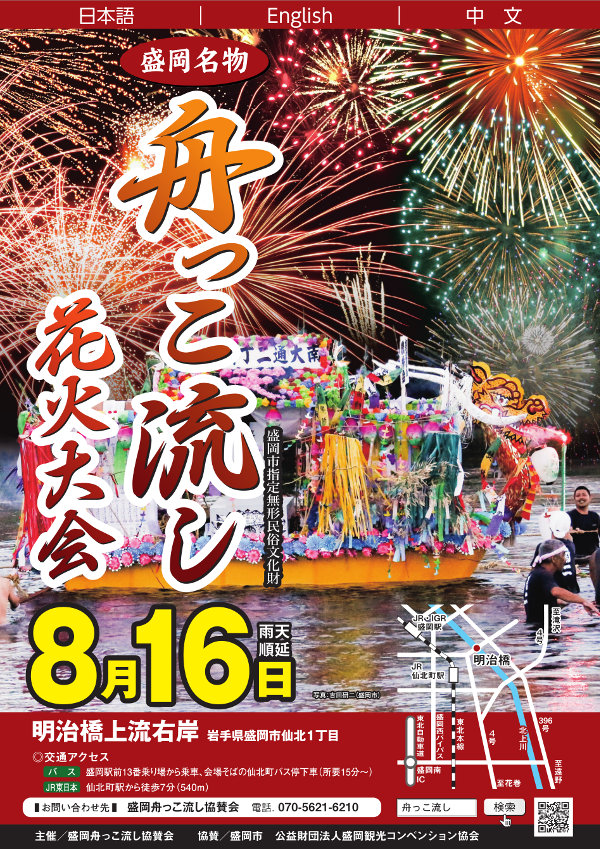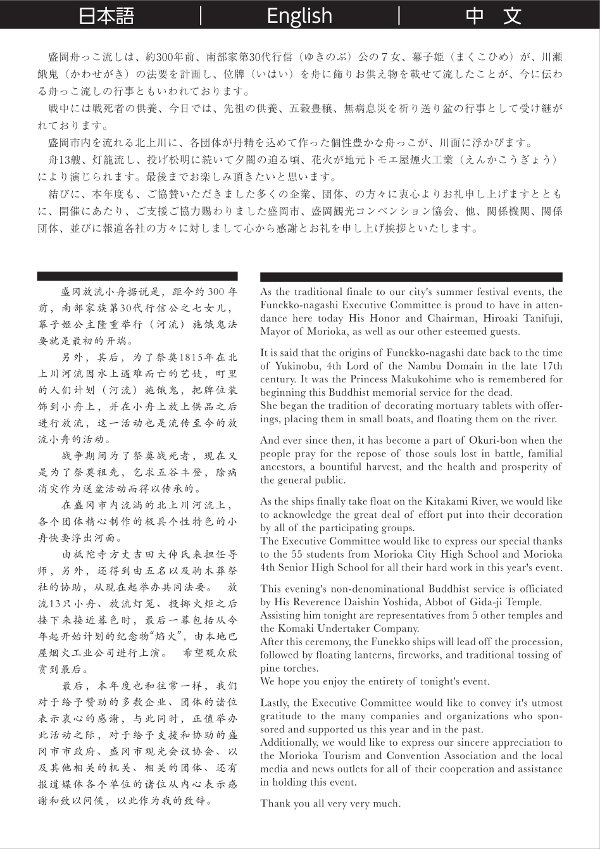 简体中文 (Chinese)
 盛冈放流小舟据说是,距今约300年前,南部家族第30代行信公之七女儿,幕子姬公主隆重举行(河流)施饿鬼法要就是最初的开端。
 另外,其后,为了祭奠1815年在北上川河流因水上遇难而亡的艺妓,町里的人们计划(河流)施饿鬼,把牌位装饰到小舟上,并在小舟上放上供品之后进行放流,这一活动也是流传至今的放流小舟的活动。
 战争期间为了祭奠战死者,现在又是为了祭奠祖先,乞求五谷丰登,除病消灾作为送盆活动而得以传承的。
 在盛冈市内流淌的北上川河流上,各个团体精心制作的极具个性特色的小舟快要浮出河面。
 由祗陀寺方丈吉田大伸氏来担任导师,另外,还得到由五名以及驹木葬祭社的协助,从现在起举办共同法要。 放流13只小舟、放流灯笼、投掷火炬之后接下来接近暮色时,最后一幕包括从今年起开始计划的纪念物"焰火",由本地巴屋烟火工业公司进行上演。 希望观众欣赏到最后。
 最后,本年度也和往常一样,我们对于给予赞助的多数企业、团体的诸位表示衷心的感谢,与此同时,正值举办此活动之际,对于给予支援和协助的盛冈市市政府、盛冈市观光会议协会、以及其他相关的机关、相关的团体、还有报道媒体各个单位的诸位从内心表示感谢和致以问候,以此作为我的致辞。
English
As the traditional finale to our city's summer festival events, the Funekko-nagashi Executive Committee is proud to have in attendance here today His Honor and Chairman, Hiroaki Tanifuji, Mayor of Morioka, as well as our other esteemed guests.
It is said that the origins of Funekko-nagashi date back to the time of Yukinobu, 4th Lord of the Nambu Domain in the late 17th century. It was the Princess Makukohime who is remembered for beginning this Buddhist memorial service for the dead.
She began the tradition of decorating mortuary tablets with offerings, placing them in small boats, and floating them on the river.
And ever since then, it has become a part of Okuri-bon when the people pray for the repose of those souls lost in battle, familial ancestors, a bountiful harvest, and the health and prosperity of the general public.
As the ships finally take float on the Kitakami River, we would like to acknowledge the great deal of effort put into their decoration by all of the participating groups.
The Executive Committee would like to express our special thanks to the 55 students from Morioka City High School and Morioka 4th Senior High School for all their hard work in this year's event.
This evening's non-denominational Buddhist service is officiated by His Reverence Daishin Yoshida, Abbot of Gida-ji Temple.
Assisting him tonight are representatives from 5 other temples and the Komaki Undertaker Company.
After this ceremony, the Funekko ships will lead off the procession, followed by floating lanterns, fireworks, and traditional tossing of pine torches.
We hope you enjoy the entirety of tonight's event.
Lastly, the Executive Committee would like to convey it's utmost gratitude to the many companies and organizations who sponsored and supported us this year and in the past.
Additionally, we would like to express our sincere appreciation to the Morioka Tourism and Convention Association and the local media and news outlets for all of their cooperation and assistance in holding this event.
Thank you all very very much.
Contact Us
Morioka Funekko-nagashi Executive Committee
[
E-mail
/ Phone: 070-5621-6210 ]
---
盛岡舟っこ流し協賛会© [
メール
/ 電話:070-5621-6210 ]